Restaurant / Snack-Bar / Hosts' table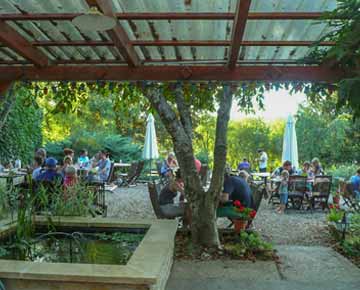 The bar and the restaurant with its 3 terraces, each with their own atmosphere, are a great place to meet people.
During high season, the bar, the restaurant and the snack are open every day.
You'll be served on one of our 3 terraces at the restaurant. There, you'll be able to enjoy yourself while savouring a nice plate of home produce.
In Périgord, the home produce are carefully selected and we always select products with direct ditribution to serve a traditionnal home cooking in our restaurant : Périgourdine salad, vegetarian plate, cold cuts-cheese plate, girolles omelets, duck confit with dauphinois potatoes, chocolate lava cake…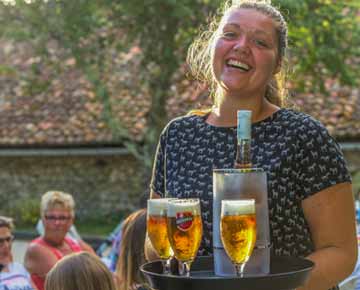 We serve snacks 6 days a week at lunch from 12:00pm and 1:00pm and at night from 6:30pm to 8:00pm. The 7th day is reserved for our homemade pizza night which is always very popular. The pizzas are either for take away or to be eaten on the terrace
The bar and lounge terrace are open all day long. Why don't you try our cappuccino or comfortably seat around a nice plate of charcuterie (cold cuts) and a house cocktail?
Every morning, you can pick up your baked fresh products at the restaurant. Baguettes, croustigraines, boules de campagne, croissants, chocolatines, pains aux raisins that you ordered the previous day will await for you at the reception. Our baker delivers fresh products every morning. You can enjoy all these goodies while having your breakfast at your pitch or on one of our sunny restaurant terraces.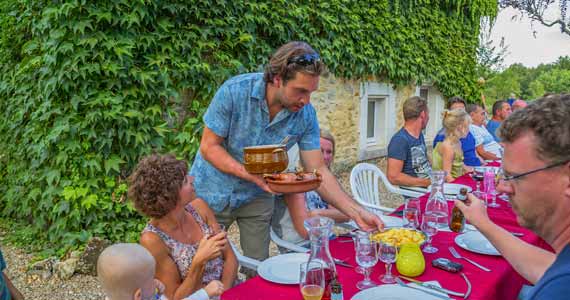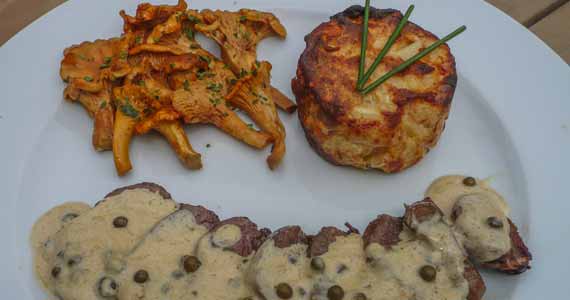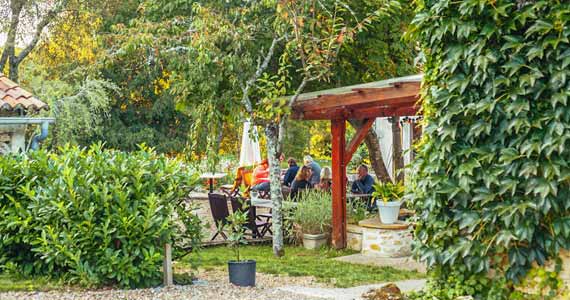 The table d'hôtes (hosts' table) is always very popular on Thursday night. This event is a large table where adults can enjoy a 3 course meal while the kids are taken care of by our entertainment team. Vacationers enjoy this convivial atmosphere around a great homemade meal.
At night, after the meal, parents and children gather around the fire to burn the ''Corneuil Man'' and grill marshmallows. Usually the night ends up to the sound of a guitar by the fire.