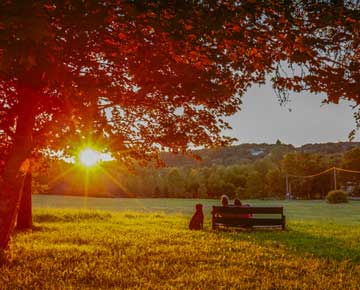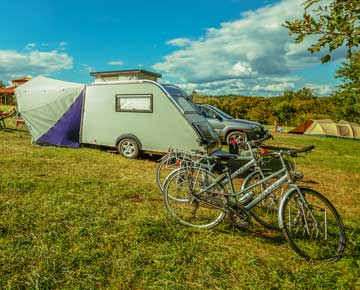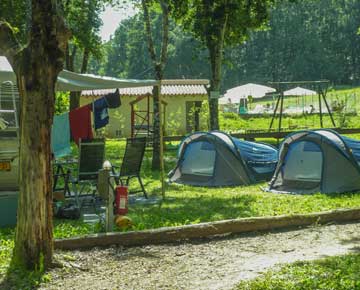 There is no such thing as traditionnal camping caravaning at Domaine de Corneuil. Here, we provide large natural areas: 8 hectares of prairies and 17 hectares of forest for a total of 55 pitches.
Our campsite is full of charm and warmth. You won't get a small pitch surrounded by hedges but a large grassy pitch of between 100 and 250m2, sunny on the hill with a beautiful view or semi-shaded by the forest's edge.
At Domaine de Corneuil, all our pitches, either sunny or semi shaded, or beside oak trees and rare wood species, can accomodate large tents, caravans or motor homes.
You can choose two types of pitches:
Comfort pitches with electricity. These pitches are between 100 and 200m2 and can welcome large tents, caravans and motor homes. Some of these pitches are unoverlooked with a beautiful view on our belvedere and the surrounding valley. Other pitches are semi-shaded, closer to the sanitary unit and perfect for families with young children. Your kids will be able to play on our 2 kids playgrounds. One, for the youngest kids, is nearby the semi shaded pitches and has a castle, swings, games on springs. The other one is located on the hill and is for older kids with its pyramid of ropes, homeball, balance game.
Nature pitches are minimum 100m2 and don't have electricity. These few pitches are perfect for campers stoping for a few nights or the ones who are minimalists.
The power of our electrical connections is 10 amps. You'll need a European plug to use them. There are various drinkable water points throughout the campsite.
For those of you who like to travel light, it is possible to rent a fridge, garden table and chairs, parasole, lawn chairs, gas barbecue, baby bed and baby chair here.
The cleanliness of our sanitary unit is fundamental! Our cleaning team makes a few cleaning rounds throughout the day. The overall cleanliness will always depend on our campers whom by respecting the facilities and others will facilitate its cleaning. At the beginning and end of the season, the shower room is heated.
We guarantee quality, calm, freedom and a warm ambiance for a successful vacation. You'll come back!